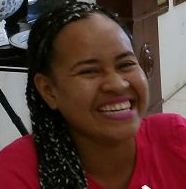 Dayane Cristina de Souza Brito – Belém (PA)
In all the modules of Tô na Rede, we learned a lot. And we ended up realizing certain things that we did not see before. In the first moment we did a survey of the problems that we have here, of the difficulties that we face in each section of the Foundation. And we ended up seeing that there are some solutions that are simple and that would be within our reach to solve certain problems. For example, in the modules of Technology – ICT 1 and ICT2 – we had information about some programs and also learned how to use social networks. And before we were even afraid to move – we hear a lot of talk but do not know how to use! So we had these notions about using social networks – Facebook, Instagran and other networks as well. We talk about the responsibility we have before posting, to check very carefully the information that will be disclosed – this is very important! And soon we started to use these networks, to post things, it was very cool for everyone! We had the Mapping module, which was fantastic. We left the Library building and went to visit some institutions and entities. So we were able to understand and feel the problems people face in the community, to know how they see the library … This is fundamental to our work, to know how to reach out to the community, how to involve these people truly in the activities, so that the library can carry out its true mission, which is, in fact, to serve the communities. For us, this contact was very important, and it was extremely exciting to identify, to feel the problem of each one of each entity … To see that, despite the difficulties that each community has, the staff does not give up, and continues doing the work with much love and affection, serving the population. This was a lesson for us. We had another interesting module, which was Discovering Talents. Then we discover the bread Tô na Rede, which is made by Lindalva; we discovered that Darci – one of the cataloging librarians – knows how to make carpets, embroidery, curtains … And we also discover some people who sing, others who play. This shows the talents that we have and that often we only show for our family. It is nice to be able to show our talents, which are sometimes hidden, so that we can add to the activities that are carried out in our profession and in our work environment. Another module that was outstanding dealt with the issue of Ethics and Citizenship. I do not forget the phrase that was constantly said in this module: "Be careful what you crave, because you may end up achieving …". We have seen what is ethical and what is citizenship – what are our rights, what are our duties. What is it to be a citizen, and how can this citizen transform the reality in which he lives? What is it for us to do, or what do we have to expect someone to do for us? What's out there, and what do we have to do with what's out there? We have everything to see, because we are here in function of society and community. We exist, this building exists, this Library exists so that we can attend to the community in fact. So, this was very nice for us, for the content and for everything that ends up reflecting in our lives, this self-reflection of our role as citizens.
This is critical. In short, Tô na Rede gives us an insight into our responsibilities and how important it is to have a broad vision of our true role in society, and to have this instrument that is the library, with which we can bring information and knowledge to the population. And with that we can, in fact, help improve a lot.